Hotel location
Vanda Hotel takes the pride to have the most beautiful and convenient location for our beloved Guests. Nestled in the heart of the dynamic Da Nang City, we own the shortest ways to every where you should go to in your journey of discovering the amusing Central Coast of Vietnam. Please kindly take a look at the board below for your reference of how far it could be and how long it could take for your trip.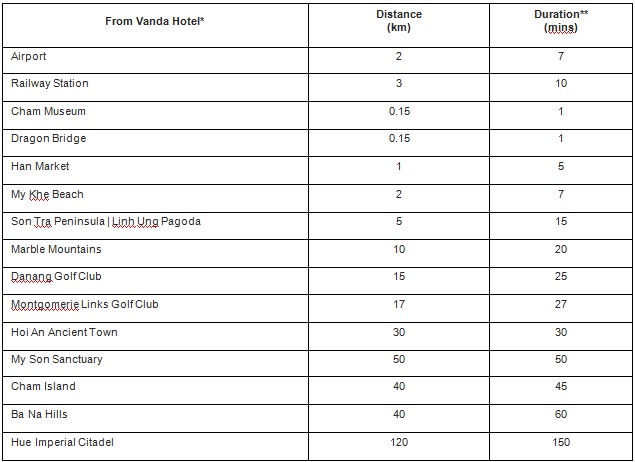 *Vehicle: car
**Subjects that can be changed due to traffic condition.
YOUR WAY TO US
From Danang International Airport, you just need to go straight ahead about 07 minutes on Nguyen Van Linh Street until you see the one-and-only Dragon Bridge. Vanda Hotel is the 19-floor building on your right side at the very start of Nguyen Van Linh Street..
VANDA HOTEL
Address: 03 Nguyen Van Linh Street, Binh Hien Ward, Hai Chau District, Da Nang City, Viet Nam.
Telephone: +84236 3525 969
Email: info@vandahotel.vn
Website: www.vandahotel.vn